Below is Teddy Bear Sunflower
This is Firecracker Sunflower
For the tomato plants, I"m going to give you descriptors and a link to see the plant. Otherwise, this letter will be too too long. All toms are $5 except for a few that we have transplanted twice to larger pots. They're $10. If available in large pots, it will be noted.
Sun Gold- an orange cherry tom that is so sweet times 10. Its all about the sugar and the texture. It would be accurate to say that sun gold is the most popular and productive tomato that you could buy. I, personally have been known to drop what I''m doing one side of the farm and walk all the way to the opposite side to grab Sun Golds. They're that good. Also available in large pots. 60 Days See link:
https://www.johnnyseeds.com/vegetables/tomatoes/cherry-tomatoes/sun-gold-f1-tomato-seed-770.html
Kellog Breakfast- low acid. Yes, there's a tie to Mr. Kellog, but can't remember exactly what or which Mr. Kellog. I love everything about K.B. Its texture, taste and shape. 76 Days
https://www.youtube.com/watch?v=pNG4aJn_2fE
Malakhitoaya Shkatulka- 70 days. The name translated means Malachite Box, named after the lovely green jewelry boxes made from the malachite mineral that comes from the Ural mountains and other areas. This early, light-to-olive green, medium-sized tomato has succulent, bright-green flesh that is very flavorful and tasty. Here's its beautiful picture.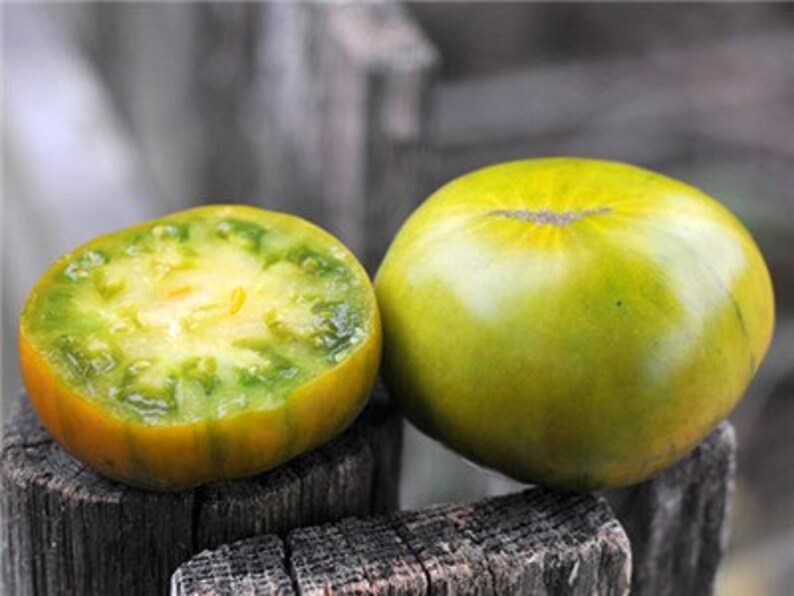 Green Giant- I love all green tomatoes. This one is the awesomest best.
Large crops of 1-2 lb emerald-green fruit that is uniform, very smooth and blemish-free. Color stays pure green even when dead ripe! Delicious melon-sweet flavors, very sweet and juicy. Green Giant is one of the best tasting green tomatoes of all time. A very good salad tomato or salsa tomato. Very few seeds. A tall, bushy, potato-leaf plant from Germany. Plants are very robust and require staking. Appears to be disease resistant. 85 days, potato leaf plants. Indeterminate. Here's its picture.
I hope that you see something of interest. Growing any of these choices will seize your imagination and feel incredibly engaging. If you'd like to talk further about making a selection, please contact me. I'd be more than happy to talk tomatoes with you. Its what I do! Growing these babies is so much easier than you think. There is no reason to feel anything except confident approaching this endeavour.
You can pick up your choices in one of three places. Madison Farmer's Market this Friday from 3-6pm. Our shed on Fowler Ave after 2pm on Friday or Wooster Square on Saturday from 9-1pm. For pickup at our shed, be sure to put your order in by 8AM on Friday.
Have a great week.